All children must be at least 5 years old and must be able to swim, please call us to confirm the weather, we do stop the sailing boats when the wind is 20knots 23MPH force 5 Beaufort scale.
​
​
Frequently Asked Questions
Kids & Teens
Q How is the day structured in the School holidays program?
---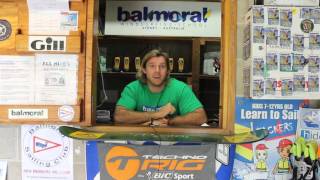 We start at 9:00am. Drop of can be anytime from 8:30am to 9am. Staff will be here early but kids will be supervised from 8:30am only. We Play some introduction games whilst waiting for everyone to arrive by 9am and we get straight on the water. First Break is at 11:00am for 30 mins, we "Eat Drink Sunscreen" and we are back on the water from 11:30 - 1pm At 1:00pm we have lunch for 60 mins supervised by our instructors, kids again "Eat Drink Sunscreen" and can go to the shops unattended to buy lunch if they receive lunch permission from parents. We are back on the water from 2:00pm for the last session. We are off the water by 3:00pm & play supervised on land games until 3:30pm when the last kid goes home! During the day the kids will get up to Various activities that include, Sailing, Windsurfing, Kayaking, Paddleboarding and a selection of on-land games all of which relate to the water. We don't follow a set syllabus on the camp, we can accommodate to different abilities, but we are mainly trying to introduce kids to different water sports, develop thier skills and water awareness, encourage them to gain more confidence on the water, learn team building & critical thinking, we also really encourage making new friends. Kids can start from 5 yrs up to 15 yrs. And they must already be able to swim confidently, however they do wear bouncy aids all day!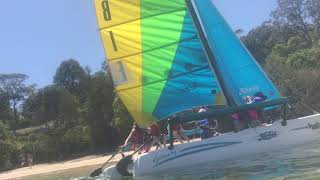 ---
Q Does my child need experience ?
---
The children are not required to have had any water sport experience, but it is vital that they are able to swim.
---
Q Are your instructors qualified ?
---
All of our instructors are highly qualified and experienced when it comes to working with children, they all have their Working with Children Check and Australian First Aid.
---
Q Do you make the children war buoyancy aid ?
---
All children are required to wear a buoyancy aid provided by us. They are more than welcome to wear their own if applicable.
---
Q Can I use my active kids voucher ?
---
Yes you can on the Tackers program or to join Balmoral Sailing Club Junior sailing windsurfing programe
---
Q How do you deal with a special needs?
---
Please infiom us with your childs special needs
---
Q How dose the program run tackers ?
---
Runs over 8 weeks during the school term, on both Saturday & Sunday's 10:00am 12:00pm f. You can join the day that suits you best! Tackers is the Australian Sailing Program for kids aged 5 to 12 ---
Q Do the kids need any special clothing to participate in Tackers?
---
• T-shirt/Lycra Top to sail in or a long sleeve t-shirt (helps protect from the sun)
• Hat
• Wetsuit – we have a small selection available on a first come first served basis
• Sunglasses - all glasses should be secured with a strap
• Something warm i.e. jumper or sweatshirt to change into at lunchtime
• Towel
• Old trainers – if you want your child to wear footwear at all times – this is NOT compulsory
---
Q What if my child has a disability?
---
Please Contact Us direct to discuss this. We'll always work with you to include your child in every way possible.
---
Q My Child cannot swim - can they still come to Water Sports ?
---
Participating in water sports activities that involve your child being able to swim Chidren do not have to be strong swimmers, bouncey vest are worn by every one on the water.
---
Q What if my child has an allergy or other health issue?
---
When you enrol your child you will need to fill in an online registration form to outline any issues or allergies. All instructors will be briefed before the activties in regards to understanding any child's health issues and requirements.
---
Q What are the instructors qualifications?
---
Austrlian Sailing, RYA, Outdoor Specialists all hold a relevant qualification for what they teach, First Aid Certificate, Completed Working with Children Check, Safty boat opraters Head instructores are responsible for the running of each group - they will experienced, specialists in working on the water with chidren. . Sailing Instructors have been trained as instructors by their sailing club, water games supervisors have a Lifeguard Qualification and rafting instructors have undergone formal training and certification.
---
Q My kids are very nervous / shy about joining in - can they still come?
---
All kids at some stage get nervous. Our staff are use to working with children overcome their fears and to gain confidence in new areas. Often we find that the most nervous kids at first are involved in everything by the end of the day. Any child that really does not want to partake will never be forced into attempting an activity.
---
Q Is Watersports Safe?
---
Safety is or number one consideration at Balmoral Water Sports Center (BWSC)- and we pride ourselves on our safety record. Like any water sports activity - there is a risk of injury, however we believe that with our polices and procedures in place, Balmoral Water Sports Center (BWSC)- is as safe as it can possibly be. BWSC has documented Safety Management Procedures in place for every program and every activity, for adherence by BWSC staff and participants at all levels and at all times. All safety management documentation is under constant review. The documentation includes: BWSC Safety & Emergency Procedures BWSC Standard Operating Procedures BWSCActivity-Specific Risk Management Matrix BWSC Assessment Documentation BWSC Medical Form BWSC Dietary Requirements Form BWSC Consent Form
---
Q What is the latest I can pick my kids up?
---
This can be aranged Contact us The activities end at 3:30pm, any child not collected ther is a late fee.
---
Q What time can I drop my kids off?
---
Drop off starts at 9.30am and all children should be on site by latest 10am. It can be aranged to drop off 8.30am Contact us
---
Q What is Tackers?
---
Tackers is a 3 step sailing program pathway that builds water and sailing confidence, with the aim to train kids to be competent sailors, where once completed, they have the opporunity to enter our Junior Sailing Program at Balmoral Sailing Club. Each child enters the Tackers program in Tackers 1 (or little tackers if they are under 7) and moves through the Tackers pathway once they have completed the 8 weeks in each level. The progression is Little Tackers (not compulsory) to Tackers 1, Tackers 2 & Tackers coaching. Completion of each level of the program is essential to being competent to move onto the next. We never "fail" the children, they will always be permitted to progress forward at the end of each term. Our aim in Tackers is providing a safe leanring enviromnent & building water confidence! All Tackers are starting sailing in small boats called Optimus. They are easy to handle & great introductory boats for kids of all ages. Our insturcutors are all RYA Dhingy Sailing qualified and have been endorsed trained in delivering the Tackers course to kids by Australia Sailing. They deliver set content over the 8 sessions & aim to have the kids at the end of the term with a sound understaning of sailing & begining racing. With the hope to enroll them into the next term to continue onto the next progressive level of Tackers to improve thier skills & furthur develop their level of sailing. Once the sailor has reached Tackers Coaching & feels ready to take thier sailing to the next level, they can enter the Junior Sailing Program with Balmoral Sailing Club. This is not compulsory, Tackers can stay inTackers Coacing level for as long as they wish, they can repeat this group for several terms & will find they still lerning new things every session. And we still encourage kids to progress forward as junior sailing focuses on preoaring kids for racing & competetive sailing.
---
Q What to bring:
---
Boardies, rashie, wetsuit (If you don't own one, we have plenty to lend out) Buoyancy aid, if already have one Water - reusable bottle - no single use plastics please! Packed lunch or money to go and buy lunch with parent/guardian's permission Sun Cream/Zinc Hat Sunglasses with a secure strap Water shoes if desired, however we do not require kids to wear them ​ Sunscreen Sunscreen, Common chemicals used in thousands of products to protect against harmful effects of ultraviolet light threaten corals and other marine life, so please choose natural sunscreen products, It's best to apply sunscreen 20-30 minutes before going outside
---
Q What are the Terms & Conditions Bookings
---
BALMORAL WATER SPORTS CENTER TERMS AND CONDITIONS: By submitting a Booking form you are consenting to be bound by the terms and conditions. Please read the below Terms and Conditions carefully before you apply for your course. 1. Contract. This document, together with the information provided to you in brochures and associated literature, forms a contract between you and Balmoral Water Sports Center. 2. Payment: No formal booking exists until the School has received full payment, a completed application form and medical form for each person booking a course. 3. Cancellation: A cancellation made more than 8 calendar weeks before the course start date will forfeit 25% of the course fees. A cancellation made less than and including 8 calendar weeks before the start date will forfeit 75% of the total course fee. For a cancellation made less than 2 weeks before the start date all course fees will be retained by Balmoral Water Sports Center. 4. Courses: Fees for courses include: instruction, equipment, certificates, and essential protective equipment as appropriate to the course. 5. Safety management: The School and its representatives have complete discretion over the management and operation of all water-based and land based activities and any other activities arranged by the School. In agreeing to these terms and conditions you are agreeing to follow and act upon the advice and guidance given by the School and its representatives in all respects. 6. Disclosure. It is of paramount importance, for your safety and the well being of other course members that the school/instructor is aware of any medical or physical condition that could have a bearing on your ability to carry out the requirements of the course. It is a condition of your acceptance on the course that you complete and sign a medical disclosure in full with no omissions. 7. Age: With the exception of those courses offered specifically for children, the School will only accept students under the age of 18 at its discretion. Acceptance will depend upon the requirements of the course, nature of the activity and the opportunity to provide acceptable levels of supervision. 8. Water confidence. Students attending courses afloat must be either competent swimmers or water confident 9. Personal effects: Although all possible measures are taken to ensure security the School, its servants, its employees or agents are not under any liability whatsoever in respect of loss or damage to students property or belongings while attending a course. 10. Adjustment of Conditions: The School reserves the right to: a) Alter prices where necessary. b) Cancel a course up to 2 weeks before it is due to start c) Decline a booking for reasons of safety, experience or other reasonable cause d) Request a student to withdraw from a course e) Change the advertised craft programme. 11. Exclusions: " The School takes no responsibility for any consequential losses incurred as a result of course cancellation, change of program, vessel, or other change in advertised conditions. The School carries compulsory public liability insurance, but does not provide other non compulsory insurance " 12. Satisfaction: We make the utmost effort to ensure our service and tuition is to your satisfaction. However if you become dissatisfied in any way you are obliged to inform the School at the earliest opportunity to enable us to address the error before the end of the course. 13. Force Majeure:. The School cannot be responsible for matters outside its control. These include (but not by way of limitation) outbreak of hostilities, civil commotion, riot, pandemic, adverse weather conditions, or any act of God effecting the conduct of the course. In this event Balmoral Water Sports Center will not be liable to refund any fees or pay any compensation. 14. Litigation—Any referring to the contract will be dealt with according to Australian law in an Australian court. 15. I acknowledge that water sports can be dangerous and that Balmoral Water Sports Center is not a child care facility. 16. We take photos and they may be used on our website and in other printed promotional material. Where a photo is used in this way, prints will be made available to you on request. To have this clause deleted from this agreement, please not your request on the bottom of this form. 17. Other than as disclosed on this form I warrant that myself (or my child) have no relevant health or learning problems of which I am aware and in the case of the child that I have the authority to enroll the child in Balmoral Sailing School and permit medical treatment. I authorize medical treatment; including first aid ; for myself (or the child) at the sole discretion of Balmoral Water Sports Center and shall indemnify Balmoral Water Sports Center for all and any costs arising. On behalf of myself (or the child), and relatives, I release Balmoral Water Sports Center CAN 100723091 (Balmoral Water Sports Center and its staff) for all claims, rights and actions arising from any incident to myself (or the child). 18. By submitting an application you are consenting to be bound by these terms and conditions

---
---
Birthday Parties
What activities do you offer?
---
You can choose 2 activities Hobie cat sailing, kayaking, stand up paddling you choose which is a nice way to split the session up and keep the kids entertained, we also run many games alongside the chosen activities, both on and off the water.
---
What is the timing?
---
Runs for 2 hours.
---
Do you have a bbq & gazebo?
---
Yes make use of our gas bbq for a sausage sizzle before or after your party the cost is included in the rates below, you will need to provide the food. We recommend having food after the activities. We also provide a Gazebo for shelter and Table for food preparation.
---
Do you supply food?
---
Yes you do, while the kids are having fun on the water you are free to set up the BBQ and get the sausages/cakes/balloons ready.
---
What is the pricing?
---
4-8 kids $61 per child 9-15 kids $56 per child 16-20 plus kids $51 per child
---
What do I need to bring?
---
Food table cloth garbage bags.
---
What are your terms & conditions?
---
Amendments All changes to the original booking, once payment has been received, (30) days before the booking date. If amendment is less than thirty (30) days notice from date of arrival you will be charged full rate. Please note a change of dates is considered a cancellation and may attract cancellation fees, unless we can fill your spot.
---
---
Jobs
How do I become an Instructor?
--- We recomend Flying Fish. Austlain Sailing.
---
What tickets do I need to Australia?
---
Without valid instructor tickets and rights to work in Australia cannot be considered. Come and join the team.
---
What are the current available jobs?
---
Watersports Instructors Windsurfing, Sailing Senior Instructor Assistant Instructor
---
What documents do I need?
---
Working holiday visa Working with children on arivale Covert your qualifications on arivale Apply for taxfile number (TFN) Apply for Medicare Super fund on arivale we can help you with this Apply for bank account on arivale
---
---
Gift Vouchers
What are the terms and conditions for the gift vouchers?
---
Amount of Gift Voucher is in Australian Dollars. Please quote the Gift Voucher [REFERENCE_NUMBER] whenever calling and discussing your Gift Voucher. The Gift Voucher can only be used towards a future booking when the Gift Voucher name is quoted. The Gift Voucher recipient may also select an optional package to the same value at the discretion of Balmoral Water Sports Center The Gift Voucher recipient will then contact Balmoral Wate Sports Centerl to book The Gift Voucher is valid for bookings made prior to the expire date stated To Book: When you are ready to make your booking, you will need to call 02 9960 5344 or email Info@SailingSchool.com.au The Gift Voucher value must be fully utilised within the validity period. In the event that the full or balance value of the prize is not utilised by the expiry date, the unused value of the gift voucher will be forfeited and no cash refund or further credit requests will be entertained. The voucher is not exchangeable and cannot be taken as cash. Balmoral Water Sports Center Terms and Conditions will apply to bookings using the Gift Voucher. This Gift Voucher is non-refundable and non-transferable.
---
My vouchers expired?
---
We never disoner vochers.
---
I've lost my voucher?
---
Its ok we can look it up, email us.
---
---
Corporate Group
What is the cost for activities?
---
Number of Cost - 2hr session 1- 8 Participants $97 + GST 20-70 Participants $87 + GST Prices can vary depending on activity and duration)
---
Do you have change rooms and showers?
---
We have on site changing and shower facilities.
---
Do you supply food?
---
Use of BBQ, Gazebo and Table included in the price You will need to provide the food There are some world class restaurant on Balmoral Beach
---
What Safety Management plans do you have in place?
---
Safety Management As our customers would attest, or Safety Management System is extremely successful and we like to think it is equal to, if not the best in the industry. Never resting on our laurels however we looked around for the most in depth and professional safety auditing process we could find and every activity, for adherence by Balmoral Water Sports Center staff and participants at all levels and at all times. All safety management documentation is reviewed annually internally and externally by an independent auditor every three years. The documentation we can provide you with are Certifiacte Curency Insurance Safety Management Plan Standard Operating Procedures Activity-Specific Risk Management Matrix Child Protection and Safety Policy Emergency Management Plan
---
---
Junior Sailing & Windsurfing Club Racing
My child has some experience can they join in?
---
As long as they can go around a course in light winds they are welcome.
---
How much is membership in Balmoral Sailing Club?
---
All the info is up to date, click me.
---
Do I need my own equipment?
---
You are welcome to hire the boats & boards when you settle into the rythm of the programme it is recomended there are places for crewing on the Manly Juniors.
---
What classes do you sail?
---
Manly Juniors Open Skiff Bic Tecno Windsurfing LT-OT
---
---
Privacy Policy
What does Personal Information mean?
---
Personal information is information that may identify you or by which your identity may be reasonably determined. Such personal information may include your name, address, other contact details, or any other information that may be provided by you in order to access or make use of our services at balmoralwatersportscenter.com.au & Gift Vouchers. In this privacy policy, 'personal information' has the same meaning as defined by section 6 of the Privacy Act 1988 ('Privacy Act').
---
Do you give personal information away?
---
We do not give personal information about an individual to any government agencies, private sector organisations or anyone else unless one of the following applies - you have consented
- you would reasonably expect, or have told us, that information of this kind is usually passed to those individuals, bodies or agencies
- it is otherwise required or authorised by law
- it will prevent or lessen a serious and imminent threat to somebody's life or health, or
- it is reasonably necessary for the enforcement of the criminal law or of a law imposing a pecuniary penalty, or for the protection of public revenue.
---
How is my personal information collected?
---
When you visit us at balmoralwatersportscenter.com.au and submit your personal information or request your personal information to be used (i.e. by subscribing to an email newsletter).
---
The information we collect or receive
---
Balmoral Water Sports Center believes in transparency and is committed to being upfront about our privacy practices. We will only collect personal and sensitive information that is reasonably necessary for us to provide you with, or directly related to, the functions that we offer on our Site, and the services that you have requested from us. You have to the right to object to, or restrict the collection of your personal data, however if you do not wish to provide us the information we require, we may not be able to provide all of our services to you. We collect personal and sensitive information from you when you interact with the Site, either at the time you register with us, or as a result of the features available to you once you have registered, including without limitation your: name; postal address; email; telephone number; payment details; the details of any products you purchase through the Site; any other information necessary to provide the functions and services requested. Balmoral Water Sports Center will collect personal and sensitive information only by lawful and fair means and not in an unreasonably intrusive way. Your consent in addition to our legitimate interest in offering our services to you forms our legal basis for collecting your personal data. Balmoral Water Sports Center may collect the personal and sensitive information directly from you, or alternatively from third parties (such as NSW Service) Covert 9
---
---
Covid Safe
What precautions are you taking for children?
---
We're taking all precautions in regards to safety and social-distancing in these turbulent times. Our COVID-SAFE initiative is of utmost priority for our camps – including enforced social distancing and frequent hand-washing. We've reduced the daily total of camp spots available; so make sure you secure yours today.
---
Have your staff been trained Covid?
---
Yes COVID-19 infection control online training is available for health care workers in all settings. It covers the fundamentals of infection prevention and control for COVID-19. Click me
---
---
Lesson
What if the weather is rainy/windy/cold?
---
We run regardless of the weather conditions --- We're very fortunate here that we are sheltered from the wind in the bay and sheltered from rain in the club. We don't accept cancellations due to the weather, nor can we reschedule on the day of your booking. Our instructors always have Plan B's and creative alternatives when its cold, windy and rainy that are fun and keep the everyone comfortable duriing the bad weather.
---
What time are lessons offered?
---
10am to 12pm & 1pm to 3pm everyday. We can sometimes do exceptions.
---
Can I change my booking after it has been placed?
---
You will need to contact us.
---
Are you open in winter?
---
Yes on call mid week, weekends 10am 5pm.
---
What online training videos do you recommend for sailing - windsurfing - paddleboarding?
---
Sailing Click me Windsurfing (link to come) Paddle boarding (link to come)
---
What do I need to bring for my lesson/hire?
---
Hat - cap Sunglasses with a strap Change of clothes, Wear clothes suited to the weather on the day, Towel Wetsuit, we supply you with a wetsuit A plastick bag to put your wet clothes in Camera to document the fun you'll have Sunscreen, Common chemicals used in thousands of products to protect against harmful effects of ultraviolet light threaten corals and other marine life, so please choose natural sunscreen products, It's best to apply sunscreen 20-30 minutes before going outside
---
What are the essential things to know before you go on water?
---
Before you go out and during your on water session you should: Check the conditions – Check your equipment – Check yourself
1. Is all your equipment seaworthy and suitable?
Clothing – make sure you are wearing suitable clothing to keep you warm and comfortable during your sailing session. If you are in any doubt about your water confidence wear a buoyancy aid. The most common need for rescue is component failure.The Boat Essential Spares – You should carry with you spare rigging / tow line and a means of attracting attention (Day-Glo flag, whistle, pocket flare). Check the boat and rigging and make sure masts and booms are secure. Take a small pocket knife with you.
​
2. Tell someone where you are going and when you will be back
It is recommended that you always sail at a venue that has safety provision as an extra precaution always ensure that a responsible person knows that you have gone on the water and that you have returned.
​
3. Obtain a forecast for the local sailing area
To avoid being caught out by changing conditions get a Forecast. If you are sailing at a new location it is advisable to seek advice from experienced local sailors or sailing school.
​
4. Are you capable of handling prevailing conditions
Ensure you are adequately experienced to handle the conditions you are going out in. Developing your skills in more challenging conditions should be done at a safe location which ideally has safety provision. If in doubt don't go out!
5. Sail with others
It's more fun to sail with others, not only do you learn from a sailing buddy but there will always be someone close by should you need a hand.
6. Avoid strong tides, offshore winds and poor visibility
Offshore winds and strong tidal streams can sweep you away from the safety of your chosen sailing area, it is essential that you understand the conditions you are sailing in and what consequences could exist. Poor visibility is best avoided as it prevents you from seeing dangers and others from seeing you should you get into difficulty.
7. Consider other water users
Many locations are busy with other water users, you should respect others on the water by giving them space and take all necessary action to avoid collision. Ensure you have adequate third party insurance.
---
What equipment is included?
---
We provide all equipment and wetsuits required for all lessons.
---
What is a Family Joyride ?
---
You will love the rush of the wind through your hair and the splash of water as you zip around Sydney Harbour; the Joy Ride Sailing Tours are very private and custom. We will do our best to ensure you have a wonderful experience. All children must be at least 5 years old and must be able to swim. "No sailing experience? No worries!!! Let one of our qualified sailing instructors take you for a joyride in one of our 17ft Catamarans". Booking Request for Joyrides are essential!!! Click Me Details at a glance Opening hours 9-4pm every day Max 5 people per group Pricing 

$149 for 1 hour What to bring Go Pro, hat
, towel
, sunscreen, 
camera,
 swimmers,
 flat-soled shoes or thongs (no high-heels)
, a light jacket or warm clothes.
---
---
Hire
Is there somewhere I can leave my belongings?
---
All belongings & any valuables can be left in the club house, we cannot be he held responsible for the loss or damage of any personal items.
---
Do you have changing & shower facilities?
---
You can use our toilets to change before and after your session. One hot shower is available in the toilets and a fresh water shower is accessible on the beachfront.
---
What do I need to bring with me?
---
Hat - cap Sunglasses with a strap Change of clothes Towel Waterproof phone case Sunscreen, Common chemicals used in thousands of products to protect against harmful effects of ultraviolet light threaten corals and other marine life, so please choose natural sunscreen products, It's best to apply sunscreen 20-30 minutes before going outside
---
Do you have parking near you?
---
Balmoral Park and beach front does have paid parking. There is free parking along top Plunket rd & Kahibah rd and you can walk through the reserve, and additional street parking in the surrounding streets.
---
When is it the best time to paddle?
---
It is best to do paddle boarding in the mornings (before 12.00pm), when generally there are light winds and low chop on the water and the sea is calm. The wind will usually pick up in the afternoon and conditions can be quite challenging unless you are experienced.
---
What is the sailing area and where can I sail / sup / kayak to?
---
Operating Area A Line Drawn Spit Bridge Middle Harbour A line drawn from Eastern end Balmoral to Grotto Point Hunter Bay Hire Craft are not allowed to go outside this area
---
What are your covid-19 policies?
---
To allow us to continue to stay open and protect your safety as well as the safety of our staff we are implementing some new rules for Balmoral Water Sports Center. Before you come down Call on the day to find out conditions. We can have equipment ready for you on the beach. 1. Fill Out The Hir Form Online Click Me 2. Pay Online, Please specify details put time Date and what you are hiring from us Click Me Avoid coming into the building please, personal belongings can stay in your care on the beach, 1 person at a time in the building please wash your hands
---
What time is the last hire?
---
3-30pm 4-30pm
---
Where do I get weather report?
---
Wind - Seabreeze
---
What experience is required to sail your boats?
---
Sailing experience on dinghys and small boats is essential, we cannot hire our boats to inexperienced sailors. If you have only sailed yachts it is not enough. You need to know how to sail upwind, launch, stop your boat, right the boat up in case of capsizing etc..
---
What are your terms and conditions when we hire?
---
You must wear the provided buoyancy aid at all times Be able to swim. No alcohol on the boats. Stay in the sailing area Always check the equipment before you go on the water. The hirer will be responsible for the craft and its care on and off the water. Children under the age of 16 must be accompanied out on the water Any accident /incident that occurs during your time of hire must be reported immediately to Balmoral Office. We do not refund your money, if you come in before the agreed time of hire or if you are bought back to the beach if you are not capable of using the equipment safely. You must sign out in the office on your return You pay for damage to the hire boat and the boat you hit.
---
---
School Groups
Q What are the Terms & Conditions School Groups
---
PLEASE BE AWARE that participates cannot in any way join water sport activity if they cannot swim. Number of instructors / safety boats – Dependent on Numbers 1. All sessions will still run in wet weather, please ensure all students have appropriate clothing for all conditions. 2. When we quote and book you in we quote on a 'PER HEAD' basis. This is calculated on the exact number of students attending. Based on this number we organise equipment and staff to stay within our operating ratios. Please make it clear to us in writing UP TO 1 WEEK in advance if numbers will change due to conflicting school activities. Based on the numbers YOU quote us we will arrange adequate staffing to stay within ratios – if anything changes to affect this YOU MUST INFORM US IN WRITING so we can keep our staff informed 1 WEEK IN ADVANCE. OUR RESPONSIBILITIES: • To provide all participants with supervision on the water for the duration of the programme • Safety rescue cover on the water • 1st aid kit • Sailing equipment including buoyancy aids for all participants • Participant Waiver form • To provide you with an invoice at the completion of the programme YOUR RESPONSIBILITIES: Provide us with a list of names who is attending, with there emails & emergency phone numbers & medical conditions. Page 1 of 1 QUOTE NUMBER: 20222 TOTAL: $640.20
---
Certificate of Currency 2020-2021
---
---
---