All children must be at least 5 years old and must be able to swim, please call us to confirm the weather, we do stop the sailing boats when the wind is 20knots 23MPH force 5 Beaufort scale.
​
​
Sailing, Windsurfing, Kayaking, Paddle Boarding
Have fun, be safe, learn new skills, make new friends
​
Info
School Holidays
---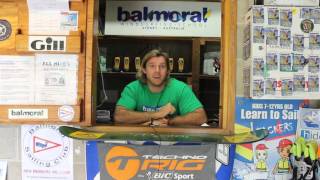 KIDS & TEENS MULTI-ACTIVITY SCHOOL HOLIDAYS PROGRAM "Have Fun - Be Safe - Learn New Skills - Make New Friends" If you're ready to register your kids click the "Book Now" link: Or If you would like more information, please scroll down and read on! Here is a taster of what the kids get up to on our Mulit-Activity Program....... Our watersports camp takes place during the NSW school holidays. It is incredibly popular and so we always recommend booking early to avoid disappointment. Our Watersports Kids Camp is called "Multi-Activity" because we do multiple different activities throughout the day/week. The different activities include Sailing, Windsurfing, Paddleboarding and Kayaking, with a major emphasis on having fun & gaining & improving their watersports skills! What makes us unique at Balmoral? We have 30 (since 1989) years of experience teaching kids in outdoor environments, we fall under the category of Outdoor education, so we facilitate a learning environment & encourage kids to engage with learning in an experiential kinesthetic way. We teach the kids about water safety & personal safety, marine environment, local species & conservation of our marine environment. We do this by getting down to their level & showing them how fun being outdoors can be, we go exploring around Hunters Bay to different secret beaches, we do treasure hunts & pirate challenges and some navigation, we play a range of different games that focus on problem solving, team building, communication skills, critical thinking & using their bodies & minds in ways they likely haven't done so before. We always encourage the kids to step outside their comfort zones & provide a safe space for them to face their fears. Our instructors are taught to have empathy and good communication with the kids, and they are often caught having just as much fun playing & learning with the kids! We learn just as much from them as they do from us. Sessions fun from Monday - Friday. Drop off is between 9:00AM - 9:30AM and Pick up is Between 3:00PM - 3:30PM"It's a great way to introduce your children to the water sports environment Price Information PER CHILD (note that the multi day discount applies per child per booking) 1 Day : AUD$177 2 Days: AUD$277 3 Days: AUD$352 4 Days: AUD$427 5 Days: AUD$497 6 Days: AUD$567 7 Days: AUD$637 8 Days: AUD$707 9 Days: AUD$777 10 Days: AUD$847​ WE SPLIT THE KIDS INTO 4 DIFFERENT AGE GROUPS However we are flexible if siblings or good friends want to go together in the same group on the day, we understand kids may feel a little uncomfortable at first, we will occasionally move kids around into the groups as appropriate based on our assessment of their ability and confidence on the day. And we ask that parents sign their kids up into their correct age groups initially, but do let the instructors know on the day which kids would like to be together, & they will make an assessment where is best fit for them to go. During the day the kids will get up to Various activities that include, Sailing, Windsurfing, Kayaking, Paddleboarding and a selection of on-land games all of which relate to the water. We don't follow a set syllabus on the camp, we can accommodate to different abilities, but we are mainly trying to introduce kids to different water sports, develop their skills and water awareness, encourage them to gain more confidence on the water, learn team building & critical thinking, we also really encourage making new friends. Kids can start from 5 yrs up to 15 yrs. And they must already be able to swim confidently, however they do wear bouncy aids all day! The children are not required to have had any water sport experience, but it is vital that they are able to swim All of our instructors are highly qualified and experienced when it comes to working with children, they all have their Working with Children Check and Australian First Aid. All children are required to wear a buoyancy aid provided by us. They are more than welcome to wear their own if applicable. They can attend as many days as desired, these can be altogether or spread out through the holidays. How does the day run at Balmoral Watersports Çamp? We start sign in at 9:00am. We Play some introduction games whilst waiting for everyone to arrive by 9:30am and we get straight on the water. First Break is at 11:00am for 30 mins, we "Eat Drink Sunscreen" and we are back on the water from 11:30 1pm At 1:00pm we have lunch for 60 mins supervised by our instructors, Kids again "Eat Drink Sunscreen" and can go to the shops unattended to buy lunch if they received lunch permission from parents. We are back on the water from 2:00pm for the last session We are off the water by 3:00pm & play supervised on land games until 3:30pm when the last kid goes home! We run the camp regardless of the weather conditions --- Were very fortunate here that we are sheltered from the wind in the bay and sheltered from rain in the club. We don't accept cancellations due to the weather, nor can we reschedule on the day of your booking. Our instructors always have Plan B's and creative alternatives when its cold, windy and rainy that are fun and keep the kids comfortable duriing the bad weather. What to bring: Boardies, rashie, wetsuit (If you don't own one, we have plenty to lend out) Buoyancy aid, if already have one Water - reusable bottle - no single use plastics please! Packed lunch or money to go and buy lunch with parent/guardian's permission Sun Cream/Zinc Hat Sunglasses with a secure strap Water shoes if desired, however we do not require kids to wear them ​ Sunscreen Sunscreen, Common chemicals used in thousands of products to protect against harmful effects of ultraviolet light threaten corals and other marine life, so please choose natural sunscreen products, It's best to apply sunscreen 20-30 minutes before going outside Active Kids Vouchers You can not claim a voucher after booking and ask for a refund, we can only give you a credit after booking in the same holiday period.
---
Tackers
---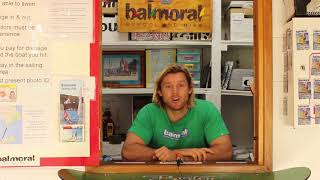 Email us to redeem you Active Kids Voucher Click Me If you would still like more information on the Tackers program, read on here: Tackers runs over 8 weeks during the school term, on both Saturday & Sundays. You can join the day that suits you best! Tackers is a 3 step sailing program pathway that builds water and sailing confidence, with the aim to train kids to be competent sailors, where once completed, they have the opportunity to enter our Junior Sailing Program at Balmoral Sailing Club. Each child enters the Tackers program in Tackers 1 (or little tackers if they are under 7) and moves through the Tackers pathway once they have completed the 8 weeks in each level. The progression is Little Tackers (not compulsory) to Tackers 1, Tackers 2 & Tackers coaching. Completion of each level of the program is essential to being competent to move onto the next. We never "fail" the children, they will always be permitted to progress forward at the end of each term. Our aim in Tackers is providing a safe learning environment & building water confidence! All Tackers are starting sailing in small boats called Optimus. They are easy to handle & great introductory boats for kids of all ages. Our instructors are all RYA Dinghy Sailing qualified and have been endorsed and trained in delivering the Tackers course to kids by Australia Sailing. They deliver set content over the 8 sessions & aim to have the kids at the end of the term with a sound understanding of sailing & begining racing. With the hope to enroll them into the next term to continue onto the next progressive level of Tackers to improve their skills & further develop their level of sailing. Once the sailor has reached Tackers Coaching & feels ready to take their sailing to the next level, they can enter the Junior Sailing Program with Balmoral Sailing Club. This is not compulsory, Tackers can stay inTackers Coaching level for as long as they wish, they can repeat this group for several terms & will find they still learning new things every session. And we still encourage kids to progress forward as junior sailing focuses on preparing kids for racing & competitive sailing. Tackers is the Australian Sailing Program for kids aged 5 to 12 It runs every Saturday and Sunday morning from 10:00am - 12:00pm for 8 weeks during Term Tackers Single Session Ages 5-12yrs Tackers Single Session is a special experience of Tackers that allows your children to sample the program before you make a decision to enrol them. It is not a prerequisite to Little Tackers or Tackers 1 but it does give kids the chance to get out on the water and see the types of games and activities that Tackers offers. The Tackers Single Session includes a 2 hour 1st session, the costs is $77. Before booking this session please contact the office: PH: 9960 5344 TACKERS 1 Ages 7-12yrs Tackers 1- This is the first step in our Syllabus driven sailing program for children ages 7-12yrs. They will learn how to crew and how to captain their own little sailing dinghy within the safe, sheltered waters of our bay. The children will be sailing in pairs using our Optimist boats which are great entry level dinghies. No previous experience is required as training will be delivered by one of our fully qualified sailing instructors. Tackers 1 children may well be sharing a boat with a more experienced sailor and this is something we actively encourage as it helps with peer-to-peer coaching. The children will be working towards the goal of being able to sail around a Triangular course in controlled conditions. They will grow their water confidence, learn new skills, make new friends and most of all, have a great time on the water. Saturdays & Sundays - 10:00am - 12:00pm in Term 8 weeks $487 TACKERS 2 Ages 7-12yrs Tackers 2 - This is the second stage for our young sailors and it is designed to consolidate the experience and knowledge gained in 'Tackers 1'. New skills and knowledge are introduced that will enable the successful participant to safely and competently sail a dinghy in controlled conditions around a Triangular course. Again, they will be sailing in pairs, often with a child of stronger or weaker ability (for the mutual benefits mentioned in Tackers 1). At the end of our Tackers 2 course they will be ready to participate in our Tackers Coaching program. Saturdays & Sundays 10:00am - 12:00pm During Term 8 weeks $487 TACKERS COACHINHG Ages 8-12yrs Tackers Coaching - This is our coaching program for children who are not interested in our Junior Sailing program and would simply like to continue sailing with us during each and every term. They will be sailing in the same groups as the Tackers 1&2 children with the option to move onto single handed boats when they are ready. In the meantime they will continue to develop their skills both on and off the water and occasionally they will sail with children less experienced in a bid to encourage mutual development. Saturdays & Sundays 10:00am - 12:00pm During Term 8 weeks $487 TACKERS COUPON Ages 5-12yrs This is a special experience of Tackers that allows your children to sample the sailing program before you make a decision about enrolling them into Little Tackers or Tackers 1. It is not a prerequisite of joining our sailing programs but it does give kids the chance to get out on the water and see the types of games and activities that Tackers offers. Your Gift Coupon is valid for the month of September for one session value $77 You must make a booking at least 1 week before the date of the chosen session. Coupons are non-refundable and cannot be exchanged for cash. No credit or change will be given on the unused Coupons. Dates: September Weekends (Sat/Sun) Times: 10am-12pm Do the kids need any special clothing to participate in Tackers? • T-shirt/Lycra Top to sail in or a long sleeve t-shirt (helps protect from the sun) • Hat • Wetsuit – we have a small selection available on a first come first served basis • Sunglasses - all glasses should be secured with a strap • Something warm i.e. jumper or sweatshirt to change into at lunchtime • Towel • Old trainers – if you want your child to wear footwear at all times – this is NOT compulsory Sunscreen Sunscreen, Common chemicals used in thousands of products to protect against harmful effects of ultraviolet light threaten corals and other marine life, so please choose natural sunscreen products, It's best to apply sunscreen 20-30 minutes before going outside
---
School Sport
---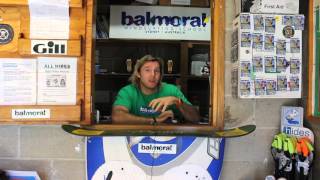 Our school watersports programme is an excellent opportunity for kids to learn new skills, increase their knowledge of the weather and the ocean, work as a team and it's an exciting change from the usual school sports. We take children of all ages and have specific equipment for kids. The programmes include all equipment, buoyancy aids, wetsuits, and tuition by our experienced Australian Sailing & Royal Yachting Association instructors. There are also hot showers and changing rooms available.Click Me Video We also offer Tackers sailing program, which is an introductory program designed to give kids an experience of sailing. At the end of the Program they receive a Certificate of Achievement. The Tackers Intro for Schools is an ideal excursion for schools where kids can combine learning about water safety alongside game-based sailing activities.Click here VideoWe are excited about what Balmoral Water Sports Center. We encourage you to visit our centerl. An appointment can be arranged with Jon Allen or Max Gaubert.Be aware that you can't participate in any water sport activity if you can't swim.Please contact us on 9960 5344n products, It's best to apply sunscreen 20-30 minutes before going outside
---
Racing For Kids
---
BSC Junior Sailing Program is Ideally suited to kids who have completed our Tackers program ,or can sail around a course in moderate conditions. Designed for Juniors Sailors aged 8+ who have a passion for sailing and would like to further develop their skills into Club racing. The program runs on Saturday mornings from 9:30am to 12:00pm and will run during Terms 4 and 1 of the summer season. The program includes instruction by qualified coaches from Balmoral Water Sports (BWS). Instruction will consist of both on-water and off-water lessons, together with participation in club and inter-club racing. All on-water activities are supported by a rescue boat, with trained operators. The requirements for the program are as follows: Prior sailing Experience to at least Tackers 3. level, with sail, water confident. BSC membership – Click Me The program is lead by a trained coach and supported by volunteers. To help support the program BSC encourages the families of junior sailors to get involved in the club and to support their child's passion for sailing. BSC encourages at least one parent to help with the program every week. Opportunities to assist include both on-water and off-water activities. Additionally, there are numerous social activities at the club including BBQ's, pizza nights and prize nights. The junior program is an Open Fleet. Current boats in the fleet are MJ's and OpenBics, Windsurfers, Other boats are welcome. The club has several loaner boats for those wishing to try out these boats. Racking facilities for boat owners are available through the club Click Me about the Open Bic Click Me about the Manly Junior For more information contact: Class Captain: Andrew Dent Email: juniorsailing@balmoralsc.com.au Phone: 0405973519 Head Coach: Jono Allen Email: info@sailingschool.com.au Phone: 0404299693 To Drive the rescue boats requires 4 day of training 1. RYA Powerboat Level 2. Click Me to book in 2 Days After completing this course you can go with your certificate to RMS and apply boat licence for a small fee $50. 2. Safety Boat Operator Click Me to book in 2 Days
---
Birthday Parties
---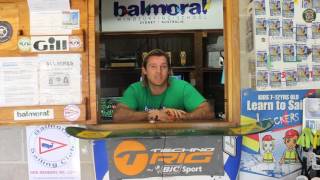 Birthday Parties – Activity For Children "Active kids will love a sailing party" Looking for something a little different for the birthday party this year? We throw the coolest kids birthday parties ever! Birthday Parties at Balmoral Water Sports are tailored to you – we throw parties for boys and girls aged from 6-14 years old. Planning a children's birthday party could not be easier. Just give us a call and we'll take care of it for you. "Please see below for some of our feedback" OUR STAFF Our experienced and qualified instructors will make sure that the birthday boy or girl and their guests have a great time out on the water, with plenty of fun and games galore. Our instructors have: • A great sense of humour • An awesome birthday plan filled with games and activities • Buckets full of enthusiasm and patience TIMINGS The birthday parties run for 2 hours. So while the kids are having fun on the water you are free to set up the BBQ and get the sausages/cakes/balloons ready. The cost includes 2 hours of instruction/supervision with our qualified instructors in your chosen activities (Hobie cat sailing, kayaking and stand up paddling). We have plenty of experience and the team will have the perfect party plan in place on your arrival – this will depend on the sport chosen, weather conditions and age of the kids – with the perfect mix of fun games and a little bit of learning. SAFETY The instructors will be out on the water in safety boats. All children MUST wear a buoyancy aid which we provide when they are at Balmoral Sailing School. All children must be able to swim. ACTIVITIES • Hobie Cat Sailing • Kayaking • Stand up Paddling We usually run two activities for the Birthday party which is a nice way to split the session up and keep the kids entertained. We also run many games alongside the chosen activities, both on and off the water. BBQ, GAZEBO, TABLE If you would like to make use of our gas BBQ for a sausage sizzle before or after your party the cost is included in the rates below, you will need to provide the food. We recommend having food after the activities. We also provide a Gazebo for shelter and Table for food preparation. PAYMENT Deposit is $135 and balance is payable on the day depending on numbers, we take MasterCard & Visa. Please read our payment terms & conditions (Click Here) PRICES 4 - 8 kids $62 per child 9 - 15 kids $57 per child 16 - 20 plus kids $52 per child
---
---